PALAZZO CLUB in Ho Chi Minh City is looking for an Operations Shift Manager. Click on the Palazzo Club logo to find out more and apply.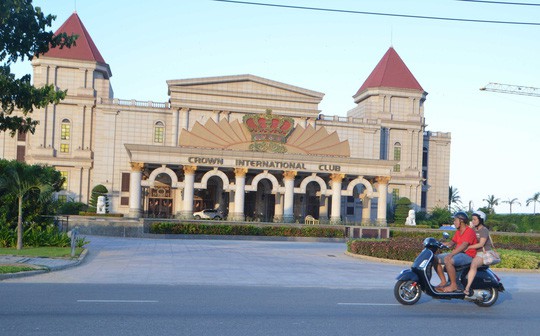 The latest news we have from Phu Quoc is:
The Corona Resort & Casino, Phu Quoc is expected to open in Summer 2018 and hiring has started. If you or your colleagues/friends are interest in a career with Corona Resort & Casino, Phu Quoc, please contact us at recruitment@casinocorona.vn
All interviews are scheduled before March, 2018
Thank you in advance and we appreciate your interest in becoming part of winning team for The Corona Resort & Casino, Phu Quoc
Warm Regards,
Recruitment Team
CORONA RESORT & CASINO, PHU QUOC
Bai Dai Area, Ganh Dau Commune, Phu Quoc District, Kien Giang Province, Vietnam
JOB VACANCIES
HUMAN RESOURCES
Recruitment Manager
Training Manager
Assistant Training Manager
Executive Secretary
English/ Chinese Trainer
HR Officer
HR Clerk
TABLE GAMES
Assistant Casino Manager
Gaming Shift Manager
Assistant Gaming Shift Manager
PIT Manager
Assistant PIT Manager
Supervisor
Dealer Inspector
Experienced Dealer
Dealer / Trainer
Training Manager
Assistant Training Manager
Supervisor Trainer
Card Room Manager
Assistant Card Room Manager
Performance Analyst
Admin Assistant
SLOTS
Assistant Slots Manager
Floor Manager Slots
Slots Supervisor
Slots Attendant
Slots Engineer
Admin Assistant
MARKETING
VIP Marketing Director
Multi Media Manager
Business Development Manager (BDM)
Mass Marketing Director
Casino Service Manager
Assistant Manager BDM
VIP Shift Manager
Mass Shift Manager
Sales Director
Sales Manager
Sales Executive
Sales Coordinator
Host Reservation
Host & Ambassador
Admin Assistant
CAGE
Credit Control Manager
Count Manager
Cage Manager
Reception Manager
Shift Leader Operation
Shift Leader Count / Card
Shift Leader Cage
Shift Leader Reception
Cashier / Count / Receptionist
Admin Assistant
TECHONOLOGY INFORMATION
Senior System Application
Minor Network System Application
Minor System Application
IT Support Manager
IT Support Officer
Admin Assistant
SURVEILLANCE & SECURITY
Director Surveillance
Shift Manager Surveillance
Observer
Security Manager
Security Shift Manager
Security Guard
Admin Assistant
Are you looking for a new Casino Job/Career in 2018?
Check our other web pages by clicking on the links below